| | |
| --- | --- |
| Merry Christmas to all (and our new website) | |
Author: Fred Voorhees Date: 12/17/2020 4:17:47 PM +18/-2
Ringoes,NJ – The members of Auto Racing Research Associates ARRA, would like to extend the warmest wishes for a Merry Christmas and a Happy New Year to all racing fans, promoters, drivers, teams and press as well as owners and promotional teams! Ending a year that was "trying" to say the least on our sport…we are sure that most or all of us are happy to put 2020 behind us and look forward to a better year that 2021 can bring us. For all of us here at ARRA, nothing changes. We will continue to forge ahead in our research and documentation process to continue to capture the history of our sport so that it is not lost to time.
We are also, at this time…..proud to announce the completion of our all new ARRA website after a few weeks putting it together. We think that you will find it much different than our old format and much more pleasing to the eyes as well. We invite you to visit the new site and see the difference and also take some time to visit our all new section of the website. There has been some construction going on behind the scenes! We added a brand new wing to the building and we are proud to announce the opening of the Bill Hanna Special Events Wing to our library of racing stats and data. The new wing is named for and dedicated to the late Bill Hanna, one of the founding members of our staff who passed away…leaving us much sooner than expected and with so much more work to do! Again, please take some time to go and visit the all new ARRA website. The address remains the same at: https://sites.google.com/site/arradocumentingracinghistory/
Thank you from all of us…..to all of those who have taken the time to lend a hand in helping us out in our searches for data on this subject or that. Thank you to the track press people who continue to keep us updated on the weekly results and to the drivers and owners who are out there each week to put on a show for us! And most of all, thank you the fans who continue to let us know that our efforts and appreciated and used for the betterment of our sport! It has been and will remain our pleasure to capture the actual past of our sport and document it for archival purposes for all of us to use.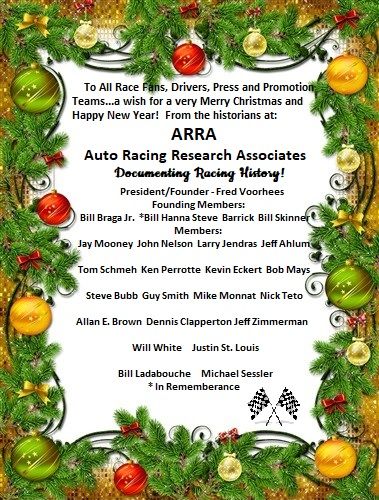 Return-To-Index
Display Full Msg Thread

Merry Christmas to all (and our new website) +18/-2 Fred Voorhees 12/17/2020 4:17:47 PM